Read More
Topics: Sean Jordan, Scheduling & Routing, iPad, Internet of Things, Service transformation, Pitfall Avoidance, Service Parts Management, Mobility, BioTek Instruments, ERP, Technology Evaluation, iPhone, CRM, Technology Investment Trends, Field Service, Contract & Warranty Management, voice of the customer, Mobile Hardware, Logistics, Perspective, knowledge management, Repair Depot, GPS, big data, IoT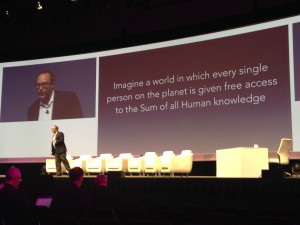 Over the course of the previous 3-4 weeks, I've had the privilege to attend some wonderful user and customer conferences. One of these was the IFS World Conference held in Boston. The conference featured the announcement of major milestones (1m worldwide users for IFS Applications) and the continued push around IFS Applications 9 to customers and prospects.
Read More
Topics: Jimmy Wales, Wikipedia, IFS, Perspective, knowledge management, IFS World Conference 2015
Yes, it's March, and that usually means lower productivity and a heightened sense of chest thumping tied to respective college basketball teams, atleast in North America. (I am very guilty of this given that my alma mater is a No.1 seed). While pockets of fans are tuning in across the rest of the world as well, these fans are probably much more interested in the madness of the Cricket World Cup taking place in Australia and New Zealand.
Read More
Topics: Customer Experience, Hewlett Packard, collaboration, HP, Ingersoll Rand, Vivint, Internet of Things, Talent Management, Safelite Autoglass, Xerox Corporation, News, Aging Workforce, customer value, Perspective, Zappos, knowledge management, KONE Elevator, Service Data, big data, Millenials, customer experience design, IoT, Smarter Services