In this blog, I explore the prevalance of Technology in Service and Customer Support businesses.
A Familiar Customer Story
Dick embarks on a journey to buy a new car. He starts his journey via the web, first looking at consumer ratings (J.D. Power) based on what he needs for his growing family (and while he is resistant to the dreaded Minivan that a lot of middle aged Americans and young families have been driven to, the gravity pull of the Minivan is too powerful and he succumbs to the force given he has 3 children).
He ends up deciding, based on his family needs and the ratings report on the Minivan class, to go with the Toyota Sienna. He begins his purchase by visiting the Toyota website where he and his wife, Jane custom design their own car using 3D/4D technology. Upon deciding on the specifications, he locates the nearest dealership where he can go in to discuss details and to purchase the car. He walks into a party-like environment, where the local Toyota dealership rolls out the red carpet. The purchase goes as smoothly as it can go and Dick and Jane are as happy as can be with their overall customer experience.
3 months later, Dick and Jane receive a phone call from the Toyota dealership, requesting to schedule an unexpected service visit. The OnStar in their Sienna had tracked the car's performance and had identified an issue with the brakes system. Toyota issued a manufacturer recall as a result of an issue with the brakes system which resulted in several motor vehicle accidents and injuries. The dealership stresses the urgency of the service visit and the requirement to bring the vehicle in within 24 hours. Dick and Jane can't support this given their busy lives so the Toyota dealer indicates that a service technician will come to their home, bring an identical demo car to be used while their car is taken in for service complimentary, and bring their car in for them. While on-site at their house, the technician uses his iPad to check in the vehicle by scanning the VIN and pulling up the customer record from their customer database. He then notices that the issue is related to the brakes and would require an immediate cautionary replacement of the front brake drum and brake pad. He looks up his truck stock inventory on his iPhone and confirms he has the service parts located in his truck stock inventory. He performs the cautionary repair on-site before heading back to the dealership for the full service. Prior to, he requests a signature authorization from Dick & Jane to exchange the vehicles on his iPad device. He also offers to move their child seats to the demo car on their behalf. Dick and Jane's life goes on without inconvenience. A day later their car is returned to them 100% back to normal. The customer is approached via email and telephone follow-up to provide feedback by completing a brief customer survey, which Toyota receives glowing results from. Dick and Jane go on to become repeat customers upgrading every 5 years to the latest Toyota Minivan.
This is a fairly universal example of a customer story. Regardless of what industry your company is in, customers will follow a similar journey as Dick and Jane (Discovery > Purchase > Service & Support > Extend/Up-sell/Cross-sell). There is a pre- and post-sale customer phase where issues arise or opportunities to convert the customer are presented (every touchpoint presenting an opportunity to convert). Some of you reading this might be employed by a company whose customer support instances might be related to a manufactured asset (Automotive, Medical, etc.) while some customer support instances might be related to a service (Finance, Insurance, Hospitality, etc.).
The Presence/Impact of Technology
Lets take a quick look and capture the presence/impact of technology in this customer story:
CRM: related to customer history records and vehicle identification which the technician had access to in real-time and in a mobile environment.
Inventory & Service Parts Management: related to managing the allocation of service parts to truck inventory to perform the cautionary repair on-site.
Mobile Hardware: related to the use of iPads and IPhones in the field for access to customer records, signature capture, etc.
Field Service Scheduling & Routing: related to the scheduling and routing of the service event.
GPS: related to the navigation by the driver to the customer location.
Internet of Things (IoT): related to tracking the vehicle's performance.
Voice of the Customer: related to the post-event feedback request via customer satisfaction surveys.
Multi-Channel: related to managing and tracking a consistent experience across different channels (web, in-person, etc.).
ERP: which was utilized for any financial transaction between parts vendor and Toyota.
Logistics: which is inherent in inventory management given these parts came from somewhere.
Repair Depot: which the dealership served as during the repair process.
Contract & Warranty Management: which some of the manufactured brake components likely were covered under.
Big Data & Knowledge Management: which was likely used to display issue resolution steps to the technician on his mobile device.
In this fairly standard example of a customer support instance, we captured over a dozen technologies required to automate the customer support process; a pretty complex IT infrastructure. Clearly, the importance of technology in automating the service and customer support business is important. However, now take into consideration that some larger multi-national organizations support autonomy based on region vs. a standard IT platform, which compounds the amount of technology and systems which might be deployed. This inflating technology infrastructure causes several issues including a decrease in employee performance and morale (says Service Engineer/Technician: "Oh look another new technology to test and learn"), loss of data given the amount of disparate systems/databases and an increase in IT related costs impacting overall profitability.
The question becomes, how do you unravel the existing technology infrastructure to determine what is needed or redundant? Are investments in new technology necessary given the existing, often times unused, technology? Will new supplemental or replacement technology be used or valued? Are we failing to recognize that process should be prioritized over technology? (this is for another blog)
Still, organizations will continue to seek to invest in new technology platforms to automate. Seventy-six (76%) of respondents to a recent survey conducted by The Service Council indicated Enabling Technologies and Innovation was an area they were seeking to acquire information about. We reviewed Technology, Hiring and other Service-related trends during a recent Smarter Services Webcast on "Mid-Year Service Business Trends", featuring Advisory Board member Sean Jordan of BioTek Instruments (the webcast recording can be downloaded here). Top technology investment trends, included: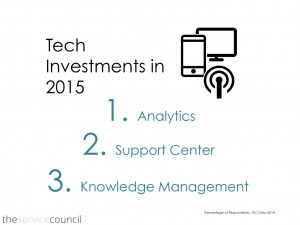 So where do technology purchases normally begin? Traditional venues such as Tradeshows and Events have been a good way to engage with the leading players. Research Analyst firms like Gartner (Magic Quadrants) and Forrester (Waves) produce technology landscape analyses which help technology-seeking organizations with a glimpse of the key players and their ability to support and the robustness of their technology. Case studies and webcasts featuring customer stories of technology users are also plentiful. But what is lacking in these available resources is three-fold:
Alignment of Situation: the ability to correlate the technology transformation story to your particular situation based on where you are at from a maturity perspective.
Understanding of Impact of Technology: the ability to know, beyond feature and functionality, what percentage of customers of the major technology providers in a certain category of technology achieve best in class performance.
How to Avoid Failure: we often read case studies, in fact many technology providers have sections of their website geared towards success stories. What about the failure stories which might help organizations avoid some of the pitfalls and landmines other organizations have encountered?
I welcome your comments to share where your technology investments will be prioritized, how you will choose your partner and how you'll prepare your organization to transform. I also welcome you to engage with our research team led by Sumair Dutta (email: sd@servicecouncil.com) to share not only the "Dos" but also the "Don'ts" of technology transformation.
P.S. Just to clarify, while I have three children (a fourth on the way in December), the customer story is not about my life. I will NEVER buy a Minivan.