As mentioned in previous blogs, we've had the incredible opportunity to attend major user events in the fields of service management and field service over the previous 2 months. One of the interesting technology takeaways from all of these events is the increasing number of providers focused on augmented reality and video-assisted resolution solutions for field service.
Video for self-service and customer support is not a new phenomenon. Google tried to bring video support and community together with its Helpouts solution but quickly shuttered that initiative. Yet, there are a number of use cases, with the most popular one being the Amazon Mayday service. These types of solutions are offered by Networking and Communication partners such as Avaya and Cisco as well as by contact center solutions partners like NICE systems and LogMeIn (I'm sure there are more).
In field service, there has yet to be a major splash in video. However, our research shows that more and more organizations are trying to wrap their heads around the use of video-enabled solutions to assist field service work. In our late 2014 research on the next wave of field service (185 participants), 18% of organizations indicated that they were building the business case for the adoption of vide0-assisted field service solutions in the short-term. These solutions are meant to connect a technician or agent in the field with a higher-level support agent in a technical support command center. With the aid of video, the technical support agent can view what the field agent is seeing and offer guidance to ensure that actual resolution takes place.
Eighteen percent (18%) doesn't sound like a large number, but thats 1 in 5 responding organizations highlighting that they have a project in mind. Whats more, nearly 40% indicate that they are considering the use of video-assisted solutions for the near future (greater than 12 months, less than 5 years). Now thats a much larger number.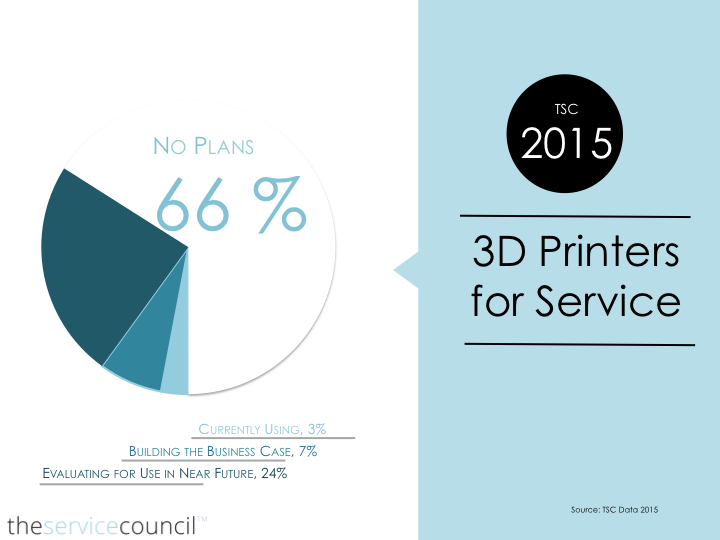 For these organizations, the biggest considerations regarding the use of video:
Quality and reliability of video streams
Integration of video into field service work streams
Capture of video-assisted sessions and integration into knowledge-base (We do have a knowledge management survey that asks the question about the capture of video for knowledge management purposes. Participate here)
Medium through which video is deployed (handheld, heads up display etc.)
In terms of the assistance eventually provided to the field agent, most organizations are currently looking for a one-way stream of video from the field to the higher-level support center, with instructions then being relayed via audio. There is also the idea of contextual information being overlayed on live video (augmented or assisted reality) for the field service agent to view as he/she works on a particular piece of equipment. This addition of context to images is extremely appealing to field service organizations, but there just have be more use cases of work actually being done with AR-enabled applications outside of demo environments.
We've touched on demand and interest, now for the supply side. At PTC Live, we saw a live demo of PTC's augmented reality application for field service, as enabled via the digital twin concept. At Servicemax's Maximize, I was introduced to SightCall and Pristine, both of which are focused on providing vide0-assisted solutions for the field service enterprise. At the IFS World Conference 2015, I had the opportunity to demo an assisted reality solution developed by XMReality, where gestures and actions from a technical support agent are overlayed on a live video stream. There are several others such as Vidcie (focused primarily on public safety), LiveGenic, and ResolutionTube who offer similar solutions.
Most of these providers have smartly chosen to be device agnostic when it comes to mode of video capture (body cameras, helmet cameras, smartphone cameras, tablet cameras). This is also the case with the handful of augmented or assisted reality applications. I say its smart, because there is a growing list of hardware providers looking to offer cameras, helmets, glasses and more, for the purpose of field service work. This is on top of the providers of smartphone, tablets and other devices on which video and other contextual content can be shared. Some of these hardware providers include (my thanks to Lucas Schlager from Pristine for his input):
DAQRI - Smart Helmets
Vuzix - M100 Enterprise Smart Glass
Recon - Jet Smart Glass
ODG - R-6 and R-& Smart Glasses
Epson - Moverio Smart Glasses
Sony - SmartEyeGlass
m-View - Wearable Cameras
Google - Glass 2.0
There are significant implications to the use of video-assisted or augmented reality applications in field service. This goes beyond improving the efficiency of field service workers in getting jobs done. It impacts recruitment, training, procedure documentation, knowledge management, resource allocation, and more. For organizations facing an aging field workforce, video also offers an option for the capture and transfer service knowledge while creating new office-based support career paths for senior field agents who might be interested in reducing their travel.
More about the next wave of field service can be found in our research library section as well as in the following presentation.
[embed]https://vimeo.com/128898632[/embed]