Its been a few weeks since we published our blog on Video and Assisted Field Service which has been popular garnering a great level of response from our community. The article has also been picked up by the likes of publications like Field Service Digital.
The response has come in two forms: a) From our community in terms of the applicability of the technology and available solutions for field service work, and b) the existence of additional Augmented Reality solutions, most of which weren't mentioned in my original post. Both types of conversations have been good.
On the first area, most field service organizations see the value in video-enabled or AR solutions. For those companies facing a high cost of downtime (internal cost or customer cost), the value is even more significant given the premium on getting it right the first time. Yet questions persist over the reliability and business-ready nature of these solutions since this is still considered an 'emerging' technology. Remember, our data shows that interest in these solutions is fairly high: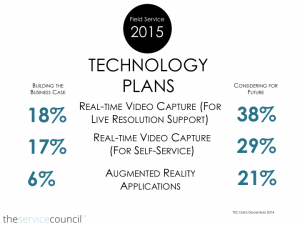 More of our research on the next wave of field service can be found in the research insights section of TSC's library.
I have to report that the solutions available are further down the path of maturity than originally thought, atleast when it comes to capability. In my previous blog, I mentioned a number of solutions that offer streaming video capabilities for field service teams with the addition of annotations, instructions and more. Well, I've been introduced to several more that offer an Augmented Reality experience for the field service workplace.
This is not meant to be an exhaustive list of available solutions. I am sure that there are others out there. These are a few, in addition to Pristine, SightCall, and ResolutionTube that are targeted at the field service market. I have no doubts that there will be more. What I like in the variety of solutions is that they are beginning to:
Consider the experience of the field technician while in front of the equipment
Integrate into existing onsite or instructional workflows
Integrate with existing enterprise systems
There is still work to be done around integration with workflows and with enterprise customer management or knowledge management systems, but we definitely have come a long way. I welcome any thoughts and feedback on the topic in the comments section. If you would like to reach me, please email me at sd@servicecouncil.com.