Meet Joe. Joe is one of the most attentive and focused service technicians I have encountered in my life. What's cool about Joe? He isn't motivated by compensation. His focus is just a part of his DNA. Would compensation make him more motivated to be customer-centric? More on this in a few moments.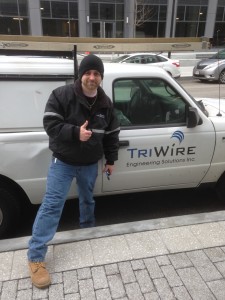 This brings up a really interesting question:
• Are we compensating our Service Agents to drive good behavior?
• Are we emphasizing a rigorous hiring process which weeds out candidates who will exhibit bad behavior?
• Are we doing both?
I suspect many organizations are looking at both of these strategies in growing their Services teams but are failing at both (often). I would argue missing the mark in your hiring process and choosing the wrong candidate is far more likely to occur with a greater degree of frequency. So shouldn't Services organizations be emphasizing a culture of motivation through compensation? One could argue that a safety net to missing the mark in your hiring process, would be to establish a culture of motivating through incentives.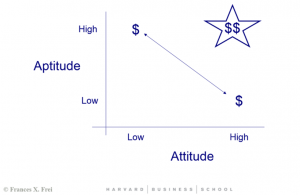 The Service Council previously welcomed Harvard Business School professor Frances X. Frei as a keynote speaker at its Smarter Services Executive Symposium. During her speech, Frances discussed the topic of "Uncommon Service" (Buy Her Book: "Uncommon Service") and touched upon the challenge of hiring Stars vs. motivating Stars to drive good behavior. The challenge of hiring Stars is that these individuals command a larger investment, of course.
Earlier in my career, a mentor of mine drove home the point "Compensation ($$) drives behavior". This was very early in my career when I was a sales manager so certainly this mantra made a lot of sense (motivating sales professionals). I believe this same mantra should be more heavily embraced in the Services sector. Allow me to make my point…

Back to Joe. Joe works for TriWire, a third-party contractor/agent for Comcast (they serve in this same capacity for Charter, Cablevision, Cox and Time Warner Cable, as well). Joe visited my home to set up our new Comcast cable service (yes I know I should find an alternative given how difficult they are to work with, but until this alternative comes to fruition, I remain an unwilling participant and am a victim of the Monopoly they hold on the cable services industry).
This story isn't about how Joe smiled and shook my hand and was very friendly (which he did). Joe was all about business. He focused on meeting the expectations that were set with me as a Customer, which is often times an overlooked function of a successful service appointment. Allow me to present another personal experience where expectations were missed one after another.
Meeting Expectations? Over this winter, I damaged my windshield (New England isn't too kind to vehicles' windhshields). A local window repair shop scheduled my service visit only to show up with the wrong windshield (Expectation Missed). This happened 3 times (Expectation Missed x 3). On the 4th attempt, they got the right part, however, upon driving to my house, requested I drive 10 miles down the road to a mutual location given the roads were a bit slippery (Expectation Missed). Understandable, but I'm increasingly becoming annoyed. As I drive to said location and park my vehicle and walk over to the service van to alert the technician I had arrived, the Technician roles down his window 4 inches, exhales a large puff of smoke nearly in my face and requests I drive my car next to his (Expectation Missed). At which point, I said "You see my car over there with the space open right next to it? That's where my car will be for the next hour. Let me know when the window replacement has been completed."
Back to Joe: He arrived at 9am; smack dab in the middle of my 8am-10am window. His first question, "Hello Mr. Carroll, it's 9am. Is this still a good time for you?", affirming that my expectation of arrival time was met. He then proceeded to complete the installation and setup with no wrinkles in his plan. Of course, as I always do, I probed on how his Service business worked. TriWire monitors Joe's daily behavior around several key performance metrics including first call resolution, work orders per day, truck stock inventory and more. Joe is passionate about his customer satisfaction measurements. In his words, "I'm tops in New England and haven't received a score below 5 (the top score) in greater than 2 years".
And what's behind Door #2 for Joe for his honorable Service? A $.07 raise for meeting a combination of metrics at the end of each month. Assuming his hourly rate of $20+or-/hour, if he were to hit 100% of his metrics for 12 consecutive months, this would equate to an $.84 raise or a 3% raise annually which is nearly equivalent to current Cost of Living Adjustment (COLA) indexes. Isn't COLA simply for employees who are tenured, not your best and brightest Stars? One could assume if they are tenured then they should be achieving at the minimum moderate success, but are they necessarily your top 1% performers?
In Summary. "People" will lead corporate agendas for Services Leadership in 2016. And while Service Organizations should certainly look at DNA and profiling certain types of individuals who align with whatever customer service standards your company has set, a greater emphasis should be placed on incentivizing/rewarding Service Agents to motivate good behavior.
I'm curious to hear how you are incentivizing/rewarding your Service and Customer Support Teams. I welcome your comments below.
"People"-oriented Research.
Given the importance of "People" to Service Success in 2016, TSC will be covering "People" related topics extensively in its 2016 research coverage, including:
• Field Technician Feedback Survey
o Part 1: The Field Service Profession (Survey Link)
o Part 2: Changes in Field Service (i.e. Technology, etc.) (Survey Link)
• Growing/Building a Service Business (Q2)
• Employee Engagement (Q3)
• Contingent/Outsourced Labor (Q3)
To participate in and/or support these research efforts please feel free to contact Sumair Dutta, Chief Customer Officer (Email Sumair) of The Service Council who leads our research coverage.
"People" topics will also be well represented at our 2016 Smarter Services Executive Symposium as the theme for Day 1 will be "Service Workers of Tomorrow". Day 1 will feature presentations and workshops on the following topics:
• A Profile of the Next Service Worker
• Making Service a Viable Profession
• Finding and Developing Success Agents
• And more…
To join us at the Symposium, please Register now for our Early Bird rate ($775 vs. $1,295).