One of my favorite quotes of all times: "The present letter is a very long one, simply because I had no leisure to make it shorter." Often attributed to Cicero or Mark Twain, this was originally used by Blaise Pascal to highlight the challenges with being brief.
I don't consider myself a prolific writer, but when I do write, I fear that I take too long to get to the point. Were 5 blogs really necessary on this field technician project? Content marketers will say that 5 short (search engine optimized) blogs are much better than 1 long opus. Would 1 short opus have been the best? Nevertheless, I have thoroughly enjoyed presenting this research and reading the resulting comments.
For those who haven't seen the previous blogs in this series, you can access:
Part 1: Introduction
Part 2: Improving a Day in the Life
Part 3: Likes and Dislikes
Today we focus on field technician thoughts on technology.
The Mobile Technician
Most field service organizations have invested in mobile devices and applications for their field service workers. These aren't always complex applications, but there is general agreement that mobile is better than paper. I believe that there is much more that can be accomplished on mobile with regards to:
Burden elimination
Relationship enhancement
Its part of TSC's mobile maturity discussion, one best left for another day.
Most of the technicians we polled for our project (97% of the 106 technicians) have at least 1 mobile device for the completion of field service work (The organizations perspective on devices can be found here). Of that group, most use smart phones as their primary work device.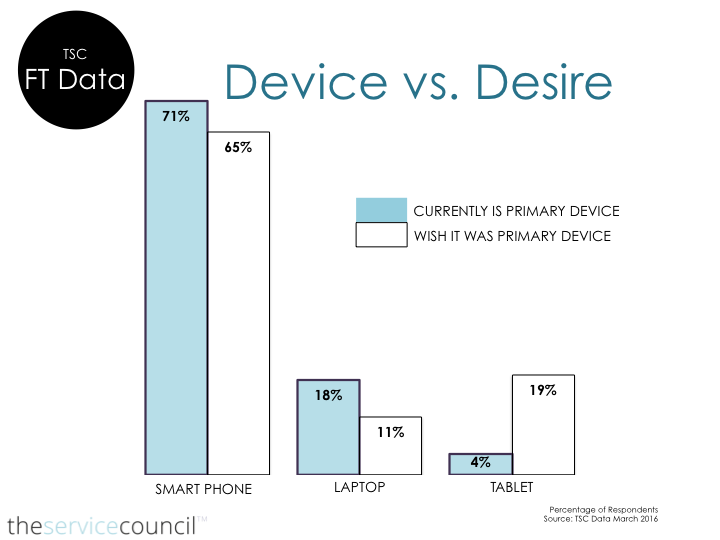 Some device and operating system thoughts:
77% of those who have been in the profession for less than 5 years would prefer to have a smart phone as their primary device
Only 55% of those who have been in the profession for more than 20 years would prefer a smart phone. 33% of these folks would prefer a tablet.
On these devices, the most utilized capabilities are:
Email
Daily check in and check out via application
Service ticket review and management
Texting
Navigation
Better work management and communication capabilities are good. What technicians would really like better access to is information that supports better resolution. This goes back to the desire of field technicians to be proficient at solving customer problems (Part 3 of the series).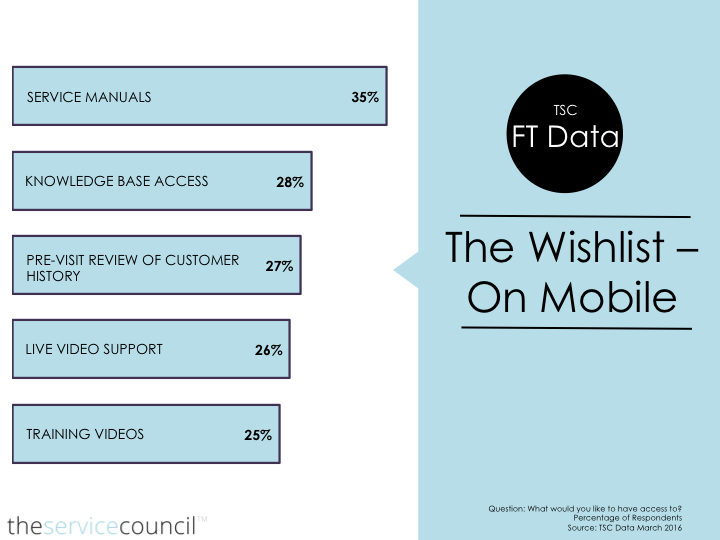 Once again, I have to interject the idea of mobile maturity here. Most organizations get stuck in the paper replacement benefits of mobile solutions or the use those benefits for short-term ROI calculations. I would argue that the benefits tied to resolution and revenue enhancement are far more expansive and better for the front-line employees. You have to consider change management and in not throwing too much at a workforce that is used to a certain tool set. Mobile should never come in the way of getting work done. But when done right, the mobile solution sits in the background and provides the right information to the field technician when he or she needs to use the solution.
Other Technology for Technician Performance
Its easy to get caught up in the talk of the Internet of Things (IoT), Virtual Reality, and so on. These technologies are currently transforming field service and will continue to be transformative. In fact, two-thirds of field workers positively view the Internet of Things and the impact that IoT will have on the completion and quality of their work. These workers don't see IoT as a worker replacement play. In fact, 69% of those with 20 or more years of experience see IoT as having a positive impact on their performance.
Technicians would like to have greater on-demand access to training videos and content. This type of content, made available in the context of a service work order, can be extremely powerful in improving resolution rates. It can also be powerful in terms of reducing and eliminating training time for new hires. Eighty-one percent 81% of the organizations we poll are looking at ways to reduce the time it takes to get their technicians out in the field.
On the topic of video, technicians are also generally positive with regards to the use of live video in supporting field service resolution. We've seen increasing use of this technology from field organizations (TSC case study on Diebold) who are not only looking to increase resolution rates, but are also looking to live video to improve on-the-job training practices.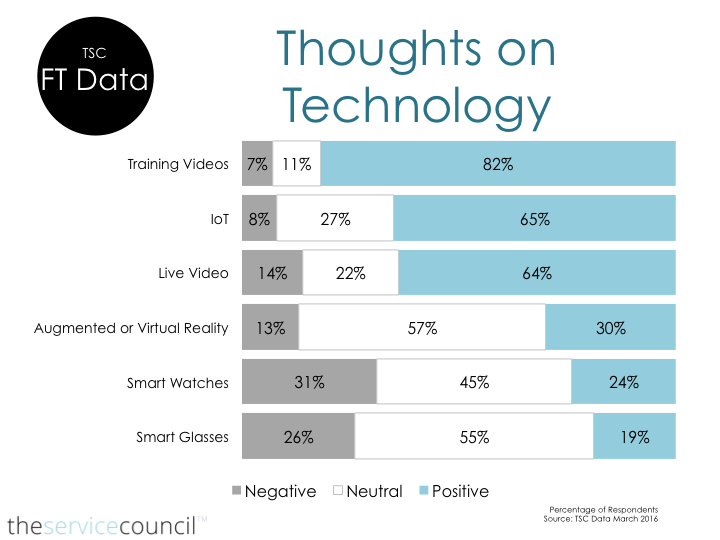 Bringing this all together will be the focus of my final blog. After that, we will publish our Field Service 2016 report. Thanks for the interest and comments. For more, please feel free to comment here, contact me via email (sd@servicecouncil.com), or indicate your interest in accessing our content via the form below.