A few days ago, I introduced our field technician-focused research in a TSC blog and LinkedIn post. Today's focus is on "Improving a Day in the Life" of the front-line field service workforce.
In 2015 research, TSC asked field service organizations what they needed to do to improve the daily lives of their field service technicians. The results focused on improving access to information and knowledge.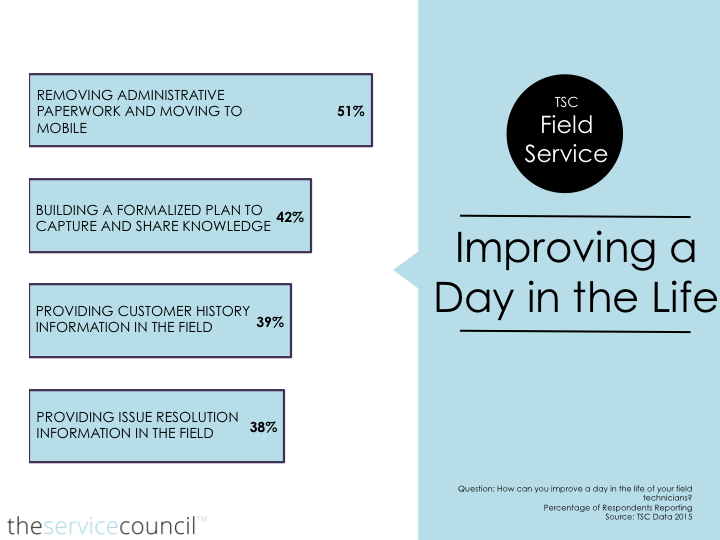 As part of our recent surveying, we asked field service technician research panelists what they would like to happen in order for their daily lives to be made much easier. (Note: They were asked to fill in their comments in an open-ended question)
In reviewing the comments, the answers fall under 5 categories:
1- Control.
"Let the employee take more control of his daily responsibilities and focus on keeping the customer happy."
As organizations increase their use of GPS, mobility, and scheduling tools, field technicians experience a lack of control in managing their day-to-day work. Several technicians also indicate that a tighter leash restricts the amount of time they can spend with customers. In the quest for improved productivity, organizations have to walk a fine line balancing productivity improvements with increased (and time consuming) internal compliance mandates.

2- Removal of Obstacles with Technology
"Currently using an electronic time clock, logging on as each phase of my day changes (travel, working, lunch, end day, etc). If that went away, I'd be very happy."

For the most part, technicians are fairly positive on the value of technology in their day-to-day. In fact, most see technology as a major tool to removing unnecessary obstacles and offering a greater degree of control on their day-to-day. As a preview of tomorrow's post, the time spent on administrative tasks or in looking for information is quite disliked. That said, technology investments are viewed favorably if they serve to eliminate obstacles as opposed to creating new ones. Once that is accomplished, technicians are much more receptive to embracing additional features and capabilities.
3- Connection with the Team
"Find a way to involve me in the flow of information. Keeping me involved, rather than an outside resource"

Isolation is a part of field service work. Most technicians are ok with this as part of the profession that they have selected. That said, many would like to see their organizations make a greater effort to connect them with other technicians, other service stakeholders, and other resources available at their service organizations.
4- Sales Accountability
"Focus on sales professionals completing every aspect of their role, including making sure customers are well informed of all up front costs. Example: Customer being surprised when the Field Service Professional lets them know the billable amount for an installation."
Service and sales need to work together. This has been established in past research. Yet, field service agents want greater accountability for their sales counterparts, tied to:
New business (the quote says it all)
Follow up on service generated leads and opportunities
5- Incentives and Recognition
Most technicians accept that they need to support business growth. Only 19% are dissatisfied with the amount of pressure to sell (37% are satisfied). That said, most would like to see their organizations do a better job of recognizing the work being done to drive business. Business comes in the form of new leads, but also in the form of customer turnarounds and renewals as a result of exemplary service work.
Most technicians are open to better financial rewards around new business identification and sale closure. That said, recognition doesn't always have to be monetary.
More field notes will be forthcoming. If interested in learning more about the research or accessing the final results, please feel free to connect with me directly.