Every day there seems to be a new article describing advances made in 3D printing. I just read one on how 3D printers were being used for whiskey glasses on the International Space Station. There is no doubt in my mind that 3D printing will disrupt and revolutionize supply chains. Some of that disruption is already occurring and early adopters are making some progress. Yet, most organizations are in a wait and see mode.
In late 2013, we lobbed a question to our community regarding the impact of 3D printing on service parts businesses. At that time, 71% of responding organizations (n=100) said no. Twenty-three percent (23%) said they didn't know yet, and only 6% said yes. In 2014, we posted a similar question to a slightly larger group (n=175) regarding 3D printing and its broader applicability to the service business. In this case, 3% of companies were currently using 3D printers, 7% were building the business case for use in the short-term, and 24% were evaluating for use in the near future (24-48 months). Of the remaining 66%, most downplayed the role of 3D printing.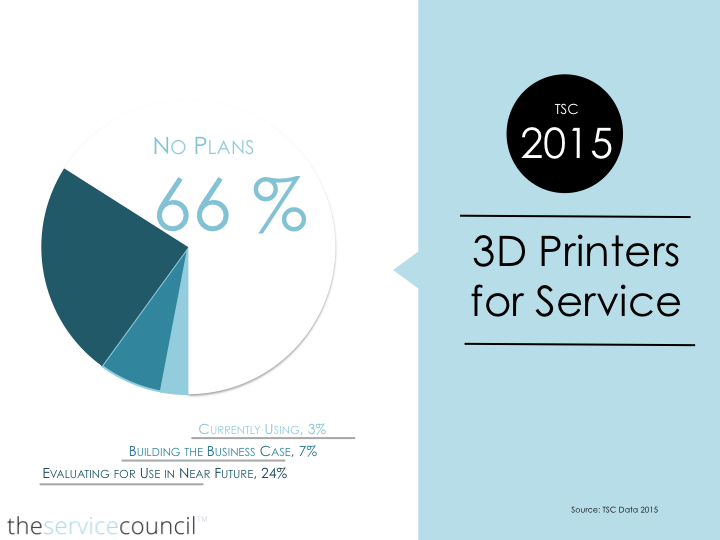 What it seems to be is that those folks who were on the fence, continue to evaluate the technology more, and some have actually put pilots and projects in place. E.g. On a recent webcast with Lexmark International around service supply chain management, Brad Lawless, their Director of Global Service Parts Operations states, "3D printing is a critical part of my tool box today and one of the reasons that we have extremely high fill rates." Brad uses the example of a 3D printing partner who provides a cost-effective 3-day turnaround for a high quality printed parted based on a model sent in by Lexmark. Yet, Lawless also states: "It will be years before you have Lexmark branded vans with 3D printers in them."
So where do 3D printers fit in when it comes to service parts? Our recent 2015 parts research has found that inventory management of service parts continues to be a major area of focus for those involved in running service supply chains. The issue is in balancing the availability of parts for technician and customer use with the cost of inventory. If you run too lean, fill rates suffer. If you overstock, you have a lot of money tied in inventory. This gets even more complicated when you think of the variety of parts needed to support multiple products.
In the realm of inventory management, we also found that a large percentage of organizations were being burdened with a large inventory of obsolete parts or parts for products that are at end of life. Since most customers look to extend the life of their products to delay the eventual replacement discussion, they still need support in the form of parts and service. This creates a unique challenge for service organizations as they are planning to stock up and support their newer lines of product vs. products that are obsolete. More so, as suppliers move away from supporting older products, it becomes more and more difficult to order necessary products, thereby forcing organizations to essentially overstock.
Enter 3D printing. Service leaders we speak with see the entry point for 3D printers in the support of parts for obsolete or legacy products. If a part is needed, it can be created on-demand and delivered to the customer with a short turnaround, thereby reducing the inventory burden on the service provider. While the cost per part might be higher, it is offset by the decrease in inventory held by the organization.
Before that happens, organizations (and service leaders) have concerns around:
- Velocity of output
- Quality of output
- Validation that the part is up to standards
- Regulations around the use of 3D printed parts especially in regulated industries
These challenges can and will eventually be put to bed as advances are made to the technology and there is a greater demand from mainstream manufacturing to adopt 3D printing. It's only a matter of time. Yet, for most in the service realm, these are still early days. A quote from one of my conversations, "The engineers love 3D printing. But the excitement fades when you talk to the operations manager."

If interested in listening in to our conversation with Lexmark International and Durst Image Technology USA, visit our Re-Imagining the Service Supply Chain webcast page.
We'll be discussing 3D printing on an upcoming parts IdeaShare entitled Innovation in Parts Management. Space is limited, but feel free to register and we'll see if we can get you in.
Otherwise, feel free to send in your comments on 3D printing and we would love to showcase some of the ideas around the increased use of this technology for better service performance.