I love to gather my thoughts following our annual Smarter Services Symposium and reflect on the excitement which I believe resonates beyond the event to the broader service and customer support market. My colleagues will cover the strategic and tactical observations stemming from the event in a series of blogs which will be published in the next week+ leading up to next week's Smarter Services Symposium Recap Webcast (Please Join Us September 27th @ 11am Eastern: Complimentary Registration). To kick this off, Sumair Dutta authored an initial summary blog (Three Days of Service Learning: Three Initial Takeaways). Our blogs and coverage of the event will aim to help you assimilate the ideas, methods and strategies we uncovered at the event which we believe to be groundbreaking.
My observations form the event are more at the Macro-level. In general, Service, Customer Support, Customer Experience is good for Humanity. In fact, it is Humanity. This is something that has been building with me for some time. I wrote a blog about an experience my daughter had at the Dentist claiming this same position (Is Customer Success Good for Humanity?). The answer is unequivocally YES!
At the 2015 Symposium, Erica Javellana, Speaker of the House of Zappos! delivered a keynote presentation (Download WOW! With Service). She talked about many things which have enabled Zappos! to stake its claim as a worldwide leader in customer success. The one story which hit home for me was the night before Christmas and how everyone within the company stops their daily job (executive management included) and answers inbound phone calls from customers attempting to squeeze in last minute shopping. During one of the most glorious, love-filled, however, stressful holiday seasons of the year (December), their entire team does one thing: Serve Its Customers!
At the 2014 Symposium, we welcomed Wayne Peacock, EVP of Member Experience at USAA, who discussed USAA's support of its Customers (those who serve our Country in Uniform and their families). He discussed a story of a retired military veteran who was suffering from PTSD and how USAA aided in him finding a path back to happiness following his return to civilian life. Our Veterans deserve this support and much more for their sacrifices.
At this year's Symposium, there were 3 stories told by Keynote & Guest Panelists which continued to raise the importance of Service as a function of Humanity.
Disney: "Snow White & The Lost Princess" (Credit: Doug Lipp, Disney University)
The story goes that a family brought their daughter to a Princess Lunch at a Disneyland Resort.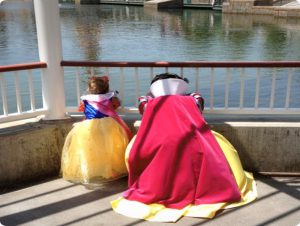 The daughter, dressed in a new Snow White gown, was of course very excited. As the Princesses entered the Lunch, the daughter, overwhelmed with the stimulation from the noise and activity given she was autistic, ran from the Lunch. This was a normal reaction when she was thrust into situations with too much excitement which she responded to in her usual manner: by launching into a catatonic state only to become more agitated when anyone tried to help her (this period usually lasting 60-90 minutes, or about the length of the Princess Lunch). Witnessing this, Snow White walked out to the family saying, "I understand we have a lost princess." After adopting the little girl's body language, not pressing the little girl to correct her behavior, within a few minutes the little girl recovered, and she and Snow White enjoyed an energetic dance on the patio.
Takeaway:
How do you and your team connect with Customers during those trying moments?
Panel: "Employee Safety"
We were pleased to host a Panel session on Day 1 tied to the topic of Employee Safety featuring executives from KONE (Elevators), Ledcor (Construction) and RK Mechanical (HVAC). We all appreciate that workplace incidents can have a dramatic impact on Organizations and Customers, but this can also lead to incidents beyond the workplace. Chris Westlake of RK Mechanical shared a story of a gentleman on his service technician staff in a previous role who committed suicide under his management, the result of which was devastating to the family. The Service Council conducted a research effort earlier this year surveying Field Technicians (we will launch a similar survey geared towards the European market in Q4). One of the top 3 answers choices to the question "What is the worst part of the job?" was, "Feeling Isolated". I was pleased that "Safety" was announced as one of the first of our mini-councils which we will be covering with greater consistency moving forward, building off our H1 2016 research efforts which included an Employee Safety Survey, IdeaShare and Webcast.
Takeaway: We always ask the question "Do you know your Customers?". I challenge you similarly, "Do you know your Employees?".
Ritz Carlton: "Joshie the Giraffe"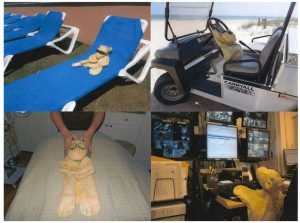 The story goes that a little boy mistakenly left his stuffed giraffe "Joshie" at the Ritz-Carlton he was vacationing at with his family. The heartbroken boy (and Parents), called the resort after returning home. Eventually, the staff found Joshie in the laundry room and his safe return to the boy began. In advance of this, Ritz Carlton took the time to stage Joshie in relaxing and fun moments, enjoying an extended vacation which eased the boy's mind. Bravo! Ritz Carlton…you not only saved the little boy, but you also saved the parents from sleepless nights, which as a parent of 4, I can assure you was appreciated.
Takeaway: Are you emphasizing creativity as a means to measure the performance of your staff? Qualitative metrics, while often times difficult to measure and subjective, should be equivalently weighted to traditional quantitative metrics (First Call/Visit Fix Rates, Customer Retention, CSat, etc.).
I ask you this: Is your company's mission statement tactically focused on the problems your products/ services address? Or does it talk about making the World (Employees & Customers) better? And while a mission statement is something to preach, are you practicing it? If not, as Leaders of the Service & Customer Support Business, I urge you to. A culture of Service begins with the example which you set.
The Service Council announced the dates and location of its 2017 Smarter Services Executive Symposium. Please join us September 13-15th in Chicago, IL USA at the Swissotel (Save Your Seat). To inquire, please reach Ray Morley, Director of Member Success (E: rm@servicecouncil.com or M: 603-289-6492).